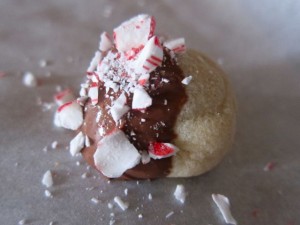 I had such a blast at my friend Jen's Christmas Cookie Swap! If you haven't already done something like this- I strongly encourage you to try it this season! It is a great way to make only one kind of cookie -not have to purchase a bunch of different ingredients, yet still have beautiful cookie trays to lay out during the holidays.
I recommend www.perfectpotluck.com for easily letting friends know what cookies will be made so there will be no duplicates!
I also like www.pingg.com for pretty evites! They have a potluck option as well, but it is not as easy to see as perfect potluck's.
[youtube http://www.youtube.com/watch?v=bRXb69AkWJk]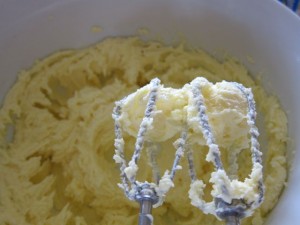 With mixer, cream together shortening and sugar until light and fluffy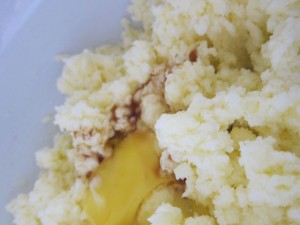 Add eggs and vanilla and mix until just combined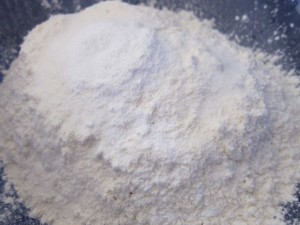 In a separate bowl combine flour, cream of tartar and salt- add flour mixture to shortening mixture and refrigerate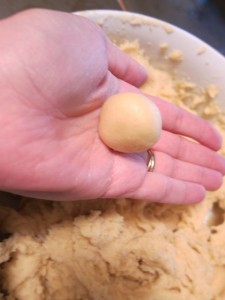 When dough is fully refrigerated, shape into balls about the size of a Tablespoon.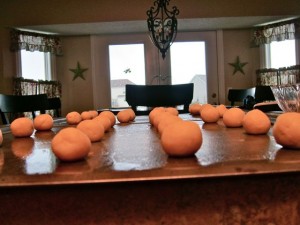 Because we used crisco and not butter (do not use butter!) the dough balls can be decently close together- they do not spread much during the baking process.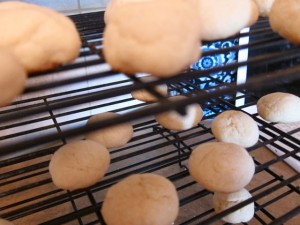 When baked through, let cool on a rack.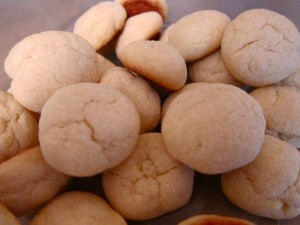 When they are cool, they are ready to dip and sprinkle!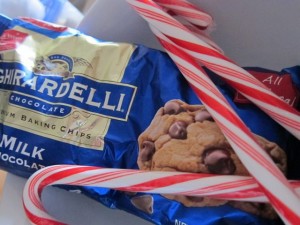 With what, you ask? With milk chocolate chips and candy canes of course!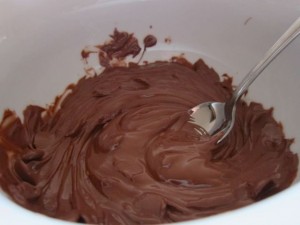 Melt your chocolate for 60 seconds in a microwave safe bowl in the microwave. Stir, then put in for another 30 seconds. Stir again- chocolate is ready!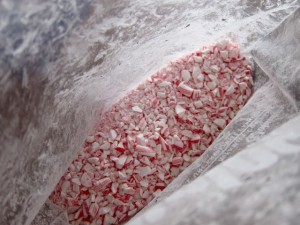 Crush candy canes in a large glad bag with a mallet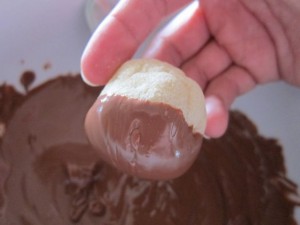 Dip cookies one by one into chocolate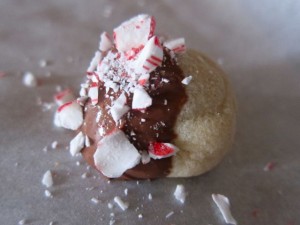 Sprinkle with crushed candy canes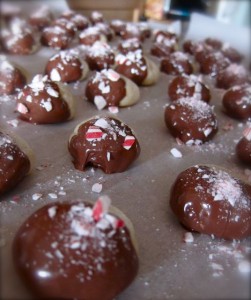 Lay on waxed or parchment paper to avoid adhering the chocolate to the surface.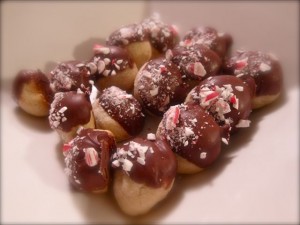 Ready to go to the Cookie Swap! These are the ones for "sampling" and the others? I placed them in large throwaway containers lined with parchment paper.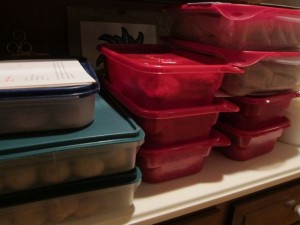 Some cookies ready to swap at the party!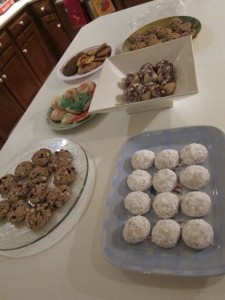 Some of the samples ...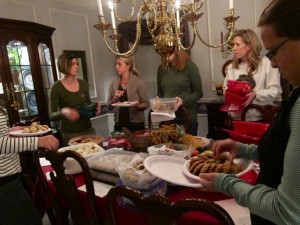 "Fellowshipping" and swapping away!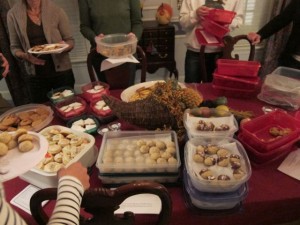 We had a beautiful assortment of delicious cookies to take home! We had about 10 ladies and we all made 10 batches of cookies. So, that makes 100 cookies to have ready in our homes for guests during the holidays!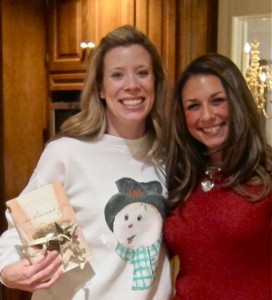 My sweet friend Missy and me - she won the silliest holiday sweater contest (sweatshirt in this case).
Recipe Type: Cookies
Preheat:350
Prep time: 20 mins
Cook time: 12 mins
Total time: 32 mins
Serves: 50
From www.tasteofhome.com
Ingredients
1 cup crisco shortening (butter flavored)
1 1/2 cups sugar
2 eggs
1 tsp vanilla
2 1/4 cups all purpose flour
1 tsp cream of tartar
dash of salt
1 package milk chocolate chips melted
14 candy canes crushed
Instructions
In a large bowl, cream together shortening and sugar with handheld mixer until light and fluffy. Beat in eggs and vanilla. In a smaller bowl combine flour, cream of tartar and salt. Add to creamed mixture and mix until just combined. Cover and refrigerate for at least an hour.
Shape dough by the Tablespoonfulls and place about 2 inches apart on non-stick baking sheets. Bake at 350 for 10-12 mins until lightly browned. Remove and place on wire racks until cooled.
Dip one side of each cookie into melted chocolate and sprinkle with crushed candy canes. Place on waxed or parchment paper until set.
Notes
I use the microwave for melting chocolate (you can still use a double boiler!) I place chocolate in a microwave safe bowl and nuke for 60 seconds; stir and nuke for another 30 seconds and stir again.
If you are baking 2 cookie sheets at a time and are seeing the bottom one is burning. Bake 5-6 mins then swap the sheets in the oven and bake another 5-6 mins.
"UNOFFICIAL" RULES OF OUR COOKIE EXCHANGE! 1. All cookies should be homemade OR purchased from a good bakery - advised to make a day or two in advance so they are cool. 2. Main ingredient should be flour (for freezing purposes), so no no-bakes or bars. 3. The amount is typically 1 dozen cookies per person- but we will get back to you on how many people are attending and let you know! 4. The "Theme" is Christmas Cookies! 5. Bring large containers to take your cookies home in 6. Bring copies of your recipe to the party 7. Christmas attire is encouraged- the SILLIEST Christmas outfit wins a prize!! 8. Please bring $5 for pizza
Ladies, I pray you have a wonderful holiday season filled with God, family and fellowship!