Baby Skin Care Products Every Mother Will Love
Ahhhhh!! Okay – so HUGE things are happening with Young Living! They recently had their annual convention where they released their latest product lines. And this year they BLEW.MY.MIND! It's a game changer! I'll try to focus on some of the new products in the next couple of months so you can learn more about them. But I thought that some of the young moms out there would LOVE to know about the new Seedlings line that they introduced. Oh how I wish this was around when my boys were little ones, especially since both of them have such sensitive skin. AND – they have a calming effect! What new momma out there doesn't want that??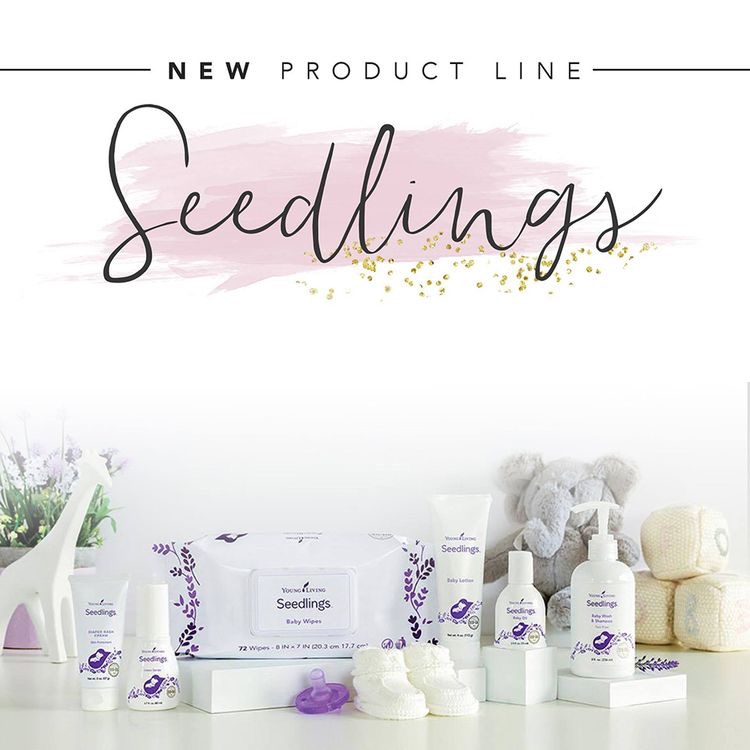 Here is a rundown of what they have to offer in this new line:
Seedlings Baby Wash and Shampoo – This is made to specifically meet baby's need! It gently cleanses skin and hair and is lightly scented with Young Living's Calm blend of Lavender, Coriander, Bergamot, Ylang Ylang, and Geranium. Can't you just smell that sweet baby now? Ugh – there is nothing better than clean, soft baby cheeks to smooch on! And it is made with the purest ingredients and essential oils for babies. AND it's tear-free of course!
Seedlings Baby Lotion - This amazing lotion nourishes that delicate skin with a lightly scented, plant-based moisturizer that uses pure essential oils for infants in a very gentle formula. This mild lotion quickly absorbs into the skin to gently moisturize, smooth, and support heathy-looking skin. Do you know how amazing this is? As a mama who had to babies covered in tiny little eczema dots all of the time, I would have LOVED this when they were babies!
Seedlings Baby Wipes - These were developed specifically for infants' delicate skin. They use pure essential oils for babies and cleansing botanicals in a mild formula with a clean and soothing scent. And they are so soft and gentle! Just what that sweet little bottom needs!
Seedlings Diaper Rash Cream – Do you know how long it took me to find a diaper rash cream that actually worked for my babies? It was so frustrating! But this sounds amazing! Young Living's Seedlings™ Diaper Rash Cream gently rubs onto infants' skin to relieve, treat, and prevent diaper rash. And it was created with the purest naturally derived ingredients. It's formulated with essential oils, soothing botanicals, and non-nano zinc oxide to reduce redness, seal out wetness, protect the skin, and provide immediate relief on contact. We all know that a happy bum means a happy baby! There's nothing worse than seeing your sweet baby cry out of the discomfort that comes from a horrible diaper rash!
Seedlings Baby Oil –This is one more way to moisturize, soothe, and nourish your sweet baby's delicate skin with plant-based ingredients and baby-safe essential oils. Use it throughout the day or if you need a little extra help to calm at bedtime, use it then to help your little one have a restful night's sleep. It has such a relaxing, peaceful scent!
If you are excited to try these products out and don't yet have a starter kit to allow you wholesale pricing, click here. There are a lot of different options that you can chose from to sign up and be part of the team!
And if you would like a sneak peek at the other new products that were launched last month, check out this short video!
Blessings!
Nikki